If you've been trying to create a firmer, more youthful skin tone for your face, there are many modern options for achieving your desired results. When basic creams, facials, and serums don't work, many people turn towards more intensive (and often more effective) treatments, like vampire facials or microneedling.
But what's the difference between these two procedures, and how can you determine which is best for you? Below we discuss everything you should consider when deciding which is the best option for your unique needs between a vampire facial vs. microneedling.
What Is a Vampire Facial?
The vampire facial (sometimes called a vampire facelift or PRP facial) is a variation of microneedling that uses the patient's own platelet-rich plasma (PRP) to initiate a localized cellular response that can help the skin on your face produce more collagen. Additional collagen not only improves skin elasticity but can also increase the healing of acne scars and even skin discoloration. PRP is derived from the patient's own blood, so there is no risk of allergic reaction or rejection. The vampire facial can be used to improve the skin's tone and texture, as well as to reduce the appearance of wrinkles, fine lines, and scars.
So, do microneedling and vampire facials really work? The evidence suggests that they can be helpful for some people. However, it's important to remember that these procedures are not miracles; they will not completely transform your appearance overnight. If you're considering microneedling or a vampire facial, be sure to consult with a qualified practitioner to see if these procedures are right for you.
Vampire Facial Process
A vampire facial is done in an office setting. This is what you can expect the vampire facial process to look like:
Blood is drawn from your arm.

The vial of your blood is placed in a centrifuge to help separate the platelet-rich plasma from the red blood cells.

Your skin is cleaned using a gentle cleanser.

A topical numbing cream is applied to your face to reduce discomfort during the procedure.

A special device creates tiny holes in your skin using needles that penetrate about 2mm deep.

The platelet-rich plasma extracted from your own blood is applied to the face.
After your PRP treatment, you may spend a short time recovering in the office. However, you'll be allowed to go home shortly after the process has finished, where you can continue recovering. It's highly recommended you don't schedule any public events, gatherings, or meetings for several days after you've received your vampire facial.
Vampire Facial Recovery
After your vampire facial, your skin may be a bit red or discolored for about one or two days. You may also find your skin is more sensitive than usual for between one day and a week.
Slight bruising might also occur for those with sensitive skin, but it's generally mild and clears up after about a week. A few people experience skin peeling or flaking, but this also generally resolves itself in a short period.
You should avoid your regular skincare routine for a few days after your vampire facial as this could irritate the area. Normal face washing and topical treatments can usually be resumed after two days or, for those who experience additional side effects, once your skin is no longer irritated.
Potential Side Effects of Vampire Facials
Although a vampire facial is considered a relatively safe procedure, there are a few potential side effects. Bruising, peeling skin, redness and general irritation is to be expected. Some rare and unexpected side effects include:
Skin burning sensations

Ongoing numbness that doesn't ease up

Signs of infection (fever, muscle aches, oozing at the injection site)
If you experience any of these unexpected side effects, you should see your primary care physician as soon as possible.
How does microneedling work with vampire facial (PRP)?
Microneedling, sometimes called collagen induction, promotes skin rejuvenation, increasing collagen and elastin production. Vitalyc's trained medical aestheticians perform this treatment at Vitalyc. It is a minimally invasive cosmetic procedure that uses fine needles to create tiny punctures in the skin. This stimulation helps to promote the production of collagen and elastin, which can improve the appearance of wrinkles, fine lines, and scars. Vampire facials are a type of microneedling treatment that uses platelet-rich plasma (PRP) to further improve results. PRP is derived from the patient's own blood and contains Growth Factors that can help to speed up the healing process. PRP is first extracted from the patient's blood during a vampire facial using a centrifuge. The PRP is then applied to the face and injected into the skin using microneedles. The process of injecting PRP into the skin helps to stimulate collagen production and can result in smoother, younger-looking skin.
What are the benefits of microneedling with vampire facial (PRP)?
Microneedling with vampire facial (PRP) is a new treatment that offers many benefits. It is a non-invasive procedure that uses tiny needles to create microchannels in the skin. Additionally, the platelets help to stimulate collagen production, which can lead to firmer, smoother skin. Vampire facials can also help to improve acne scarring and reduce the appearance of fine lines and wrinkles. If you're looking for a safe and effective way to achieve radiant skin, microneedling with PRP may be right for you. Vampire facial (PRP) can be used on the face, neck, décolleté, and hands. It is a safe and effective treatment for all skin types. Most people see results after 3-6 treatments.
Who is a good candidate for microneedling with vampire facial (PRP)?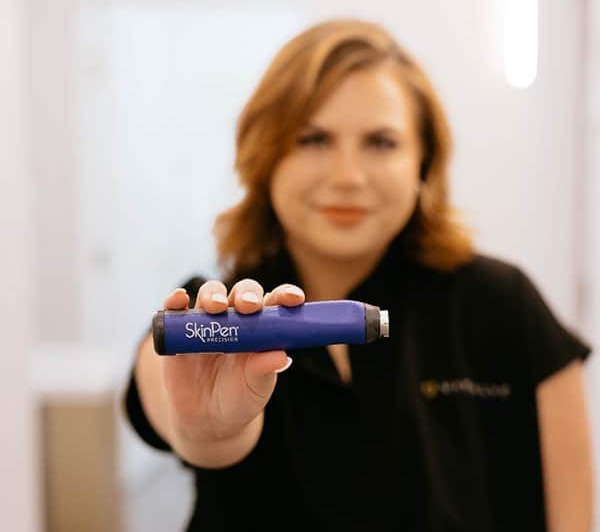 Skinpen is most effective on people with light to medium skin tones who are seeking to improve the appearance of mild to moderate wrinkles and fine lines. If you have active acne or any other skin conditions, you may not be a good candidate for microneedling with vampire facial.

What should you expect during and after treatment session(s)?
Microneedling treatment takes place inside Vitalyc's office with the use of numbing cream to minimize discomfort. Patients should expect minute pinpoint scabs to appear 24 – 72 hours after treatment, which will naturally shed when the underlying micro-injury has healed. Your skin will look luminous after one treatment, but for optimal results, we would recommend you have between 3 – 6 sessions, 3 – 4 weeks apart depending on what you are treating. Results become visible as the skin heals over the 3 – 4 weeks after having a microneedling with PRP procedure. A Vitalyc skin expert will help determine a customized treatment plan best suited to your skin presentation and desired outcomes.
What's the Difference Between Microneedling and Vampire Facials?
The primary difference between microneedling and vampire facials is that the former doesn't require you to have your blood drawn. Instead of using platelet-rich plasma (PRP), microneedling uses serums.
Choosing What's Best For You: Microneedling vs. Vampire Facial
Microneedling may be the best choice for you if:
You're on a strict budget (as microneedling alone tends to cost less)

You don't mind more sessions to achieve results

You don't like having blood drawn (or have an aversion to blood)
A vampire facial (Microneedling with PRP) may be the best choice for you if:
You desire faster healing and improved outcomes
Schedule Your Appointment Today
Once you've decided on the best option to suit your skin's unique needs, call Vitalyc Medspa at (972) 994-9700 to schedule your appointment. We provide the best medical spa services and our friendly Texas customer service staff is on standby to answer your questions and help you prepare for your injection-related procedures today.