Men's skin has a lot of what it takes to age well – but at a certain point, a guy needs a little help.
From a purely chemical perspective, dudes have the edge when it comes to maintaining firm, smooth skin. Androgens (from the Greek, "andros", "man") are the male hormones that form so much of what is traditionally male: coarse facial hair, deep voice, muscle development and definition. Testosterone is the best-known androgen, and it's the source of manly five-o'clock-stubble, road rage, epic biceps, and truly funky B.O. (yes, some women produce powerfully aromatic sweat too, but guess what? High levels of androgens in these women create that strong scent). Testosterone is like rocket-fuel, the neurochemical source of aggression and bravery; this hormone also helps the brain focus and concentrate on getting things done. Testosterone also dictates the reasons that men's skin often seems to age more slowly than the skin of women, even though guys typically don't nurture and protect their skin with the same care given by their female counterparts.
Life is not fair.
Proof: at any age, a man's skin maintains higher collagen density than the skin of a woman the same age. Men's skin may not feel as naturally buttery as female skin, but male skin produces more natural sebum than women's, and a man is more prone to sweat than a woman is. The combination of these three factors – collagen, sebum, and sweat – keeps the skin of your typical man better-hydrated than female skin, allowing him to look fresh and firm past 40 and beyond. Because a man's face and body maintain more collagen throughout life, those inevitable signs of aging such as laugh-lines around the eyes and mouth show up like nicks and chisel-marks in marble versus thumbprints in pudding, and this is why we called middle-aged men "distinguished."
Men's Anti-aging Advantages
Men also have anti-aging advantages from the neck down, and this has to do with fat-to-muscle ratio—also dictated by testosterone levels. With age, however, most men start to feel a little fluffy, even if they're fit. This may not result in a walrus-like silhouettes, but simply in a body that's a little bit more wiggly and less taut than you remember. For instance, the area on the back on the arm called the triceps. When muscle density declines, the area loses its warrior-life definition and becomes more, well, cuddly. Feeling a bit more like marshmallow than iron reflects a testosterone loss—and increasing, not decreasing dietary fat is the answer for many men experiencing their first beer-bunion or wiggle in the upper arms (aka "Bingo Wings"). We now know that restricting fat intake decreases male testosterone levels, so eating healthy fats (think salmon, olive oil, avocados) helps keep the chemistry cocktail topped off. Lowering carbs while eating a robust protein menu also supports high testosterone, as does resistance training and HIIT (High Intensity Interval Training).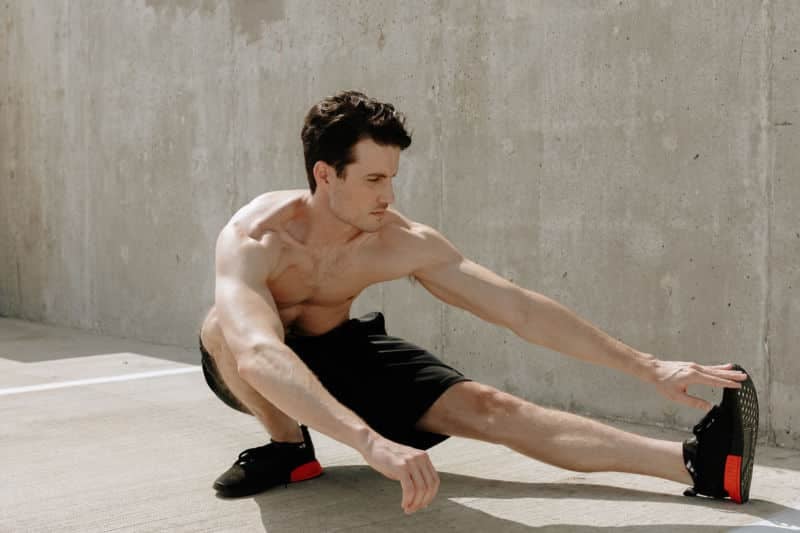 So, you've got all that going on already. And still…
If you're a guy of a certain age, you may be the king of burpees and egg-white omelets, but still…one day, the cold, hard light of a certain morning will find you staring a hole into the bathroom mirror. Who IS that guy? Or you may find yourself pinching a roll around your waist as you attempt to zip a pair of trousers you haven't worn since COVID began. Whuuut? Must have shrunk in the wash.
The fact is that, although men do age more slowly than women, change is inevitable. At Vitalyc Medspa, we understand the importance of what it takes to keep your skin, face and physique in peak form, no matter what your age. And unlike cosmetic surgery, you won't show up looking like an entirely different person after our treatments. They're subtle. And some treatments, like CoolSculpting® for fat reduction and EmSculpt Neo® for muscle, literally take weeks to a few months to fully deliver their potential benefits. In other words, as you do your part with your daily program of healthy eating, movement, and stress management, your treatment will continue to enhance your results.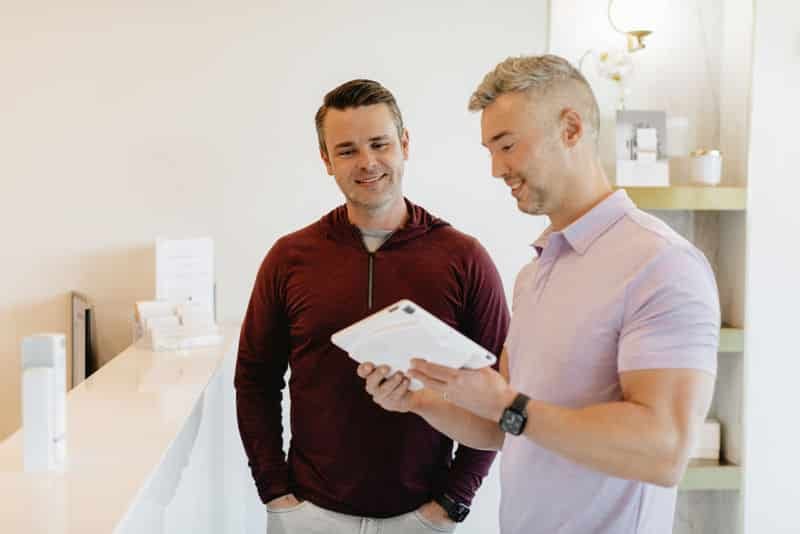 Here's a quick overview of what we have in store for you:
Hormone Optimization gets to the heart of the matter: testosterone is king! Scientists report that modern men, including young American men, are losing testosterone at a rate of as much as 1 percent a year, probably in response to myriad stressors of our times (environmental pollution including industrial chemicals like PCB, too many French fries, too much screen-time, commuting, increasing obesity, social isolation). Start with an introductory consultation with our team, identifying your goals and how T-recovery can play an important role.
Injectables are quick, convenient and safe. Common age-related issues that can be addressed by neuromodulators Botox, Dysport and Xeomin include deep creases in the forehead, "worrier" frown-lines between the eyebrows—these are also called glabellar lines of "11"s—these scowl-lines made you look tired and grumpy. Neuromodulators are also a fast, efficient way to lift the corners of your mouth and to boost the pad of soft fat just below the browbone that tends to droop and obscure our eyelids as we age. Opening up these two areas gives your face a fresh, open, inviting vibe.
Dermal fillers including Radiesse, Juvederm, Voluma, Vollure, Restylane and Refyne/Defyne can give you better lips. End of story (well, no, but maybe the most important part of the story). With age, the "vermillion" – that's the colored part of your lips—shrinks. This is the case for women as well as men, and the "loss" of lips plays a key part in what makes faces look old. If you're wondering why SNL goofball Pete Davidson gets so much attention, especially as an unlikely leading man, we think (Mwah!) it's those pillowy, plush lips of his. Furthermore, who wouldn't want to be reincarnated as Machine Gun Kelly's favorite chapstick? And do we even have to talk about Mick Jagger?
Dermal fillers can also act as a resilient gel-cushion under the skin to plump up the aging facial lines called static wrinkles, caused by loss of skin elasticity. Fillers are also ideal for treating deeper wrinkles that Botox can no longer reach, as well as restoring volume to deep undereye circles that make you look downright withered. Dermal fillers can even imitate godlike bone-structure – that's why they're injected around the jawline for a sharp, defined look there. Ditto for cheekbone-boosting, for stronger contours.
Our team are experts at combining techniques and products to deliver the exceptional results you're after.
IV Therapy is the newest breakthrough in giving your health and appearance a power-serving, through intravenous delivery. Our formulas range from a hang-over cure to a vitamin-packed energy boost or even relief from flu symptoms.
HydraFacial is a cleansing, hydrating treatment that's especially great for the guy who loves the Great Outdoors and is contending with sun damage, dark spots, rough spots, and oversized pores.
Halo is laser skin-rejuvenation for face and body. Skin is resurfaced using a hybrid fractional laser (HFL) to diminish hyperpigmentation and soften the look of creases and wrinkles.
Forma Facial – RF uses gentle heating with radiofrequency energy to tighten up loose skin and smooth away fine lines and wrinkles.
CoolSculpting literally freezes stubborn fat cells (think: Dad-belly), to eliminate those bumps and bulges that no amount of exercising or diet can touch.
EmSculpt-Neo uses FDA-approved electromagnetic pulses to make muscles contract at 100% capacity, something they never do in an ordinary workout. If you're close to your target weight but need to get that definition back, this treatment is for you. NEO is in a class of its own when it comes to body treatments as it readily fights fat while toning your muscles.
Dudes. Remember that there's no replacement for everything that those trips around the sun have given you so far. The skills, smarts, humor and grace you possess today make you a major dude, so celebrate who you are now and who you're becoming—and let's partner and work together to keep your appearance right where you want it for that next birthday, and many, many more.