The holiday season often brings a range of stress. Guests, shopping, meals, countless parties, family expectations, and social commitments-just to name a few. At Vitalyc Medspa, we want you to tackle the holiday stress without forgetting about the most crucial thing-YOU!
Tips for juggling holiday stress without disturbing your wellness: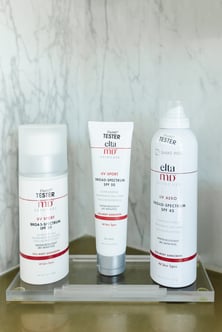 1. Stick to a schedule and routine
Set aside specific days for shopping, cooking, and connecting with friends and family. This will help prevent last-minute panic around forgotten events, ingredients, or gifts. Don't let the holiday season be a free-for-all. Stick to your workout, sleep, medication, and eating habits. And remember, it's okay to say no if it doesn't fit into your schedule.
2. Soak up the sun
Make time for yourself and enjoy an activity outside. Studies show that sunlight increases levels of Vitamin D, which affects mood, sleep regulation, motivation, and lower levels of depression. Some of our favorite outdoor activities include exercise, taking the kids to the park, enjoying conversation on the patio of our favorite local restaurants, and having a picnic… don't forget to apply your SPF!
3. Set realistic expectations and boundaries
The holidays don't have to be perfect or look exactly like they did pre-COVID. Take that expectation out! It is okay for traditions to change and evolve. Consider establishing clear boundaries and expectations with yourself and your family before the hustle and bustle. Holidays are not the best time to discuss family disagreements or grievances. Try setting them aside during this time to avoid feeling as if your expectations are not met.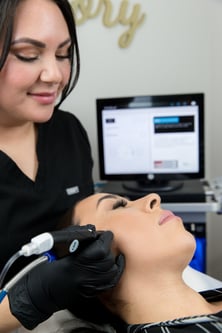 4. Healthy outlets are necessary
Don't ignore the signs of feeling overloaded. If you feel overwhelmed, don't be afraid to talk to someone. Friends and family can often help us navigate stress, but sometimes, a therapist or counselor may help provide more efficient tools. Consider taking a yoga class, walking, or getting a HydraFacial at Vitalyc. Sometimes carving out an hour to focus on yourself and get your mind off of your to-do list is all you need to refocus. It is essential to keep unhealthy habits at bay; don't let alcohol, unhealthy food, or toxic thinking creep into your life during this season.
Don't let the holidays become something marked by stress or dreaded activities. Take steps to combat stressful urges. With a bit of planning, self-care, and positive thinking, you can relish the joy and peace that comes during the holidays. Don't forget to treat yourself and your skin to a rejuvenating HydraFacial after the holiday season!